LAWINE goes abroad – in metropolis London we were looking for the small things. "Pothole Gardening" is a different kind of guerilla gardening. Initiator Steve Wheen tells us what's behind all that.
London, city of attraction. This applies to the tourist, who is overwhelmed by it at first sight – by its sheer size and grandeur, by its ethnic and cultural diversity, its pace and dynamics at the same time. Spontaneously, the real Londoner himself can name a couple of things that make his city a place to live. But when asked these days, some may not name the upcoming Olympics or a Damien Hirst exhibition at Tate Modern. Instead, we look downwards together, onto runlets and kerbs of the city.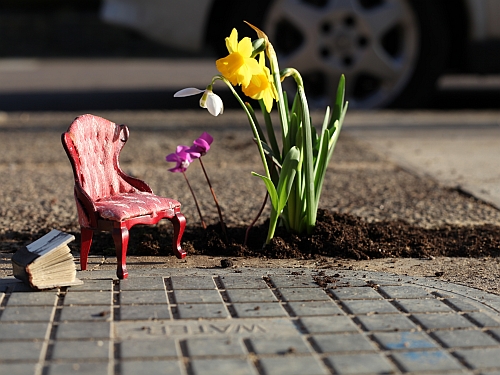 Mind the gap
A cluster of crocusses or a composition of tulips, put together on the space the size of a palm – it is actually pretty easy to revamp your environment. You just need an eye for the gaps. It is these spots where the city gives sight of what's underneath that matter for "pothole gardening". It is about its, well, potholes. I meet Steve Wheen, who hasn't invented that type of beautification, but who made it popular.
We have a chat in an ubiquitous coffee shop. Steve has his day off. In fact, he's working at home. His employer sent him home, so to speak. Fine, so there is more time to plan new projects and explain some things – what exactly is "pothole gardening", anyway?
It is about digging up the beauty of a city that seems to forget about it most of the time. London is a city that is on the verge of collapse every day anew – improving urban infrastructure and introducing a compulsory road charge has not changed this. One doesn't have to look for potholes for long. Steve does precisely this – he looks for suitable areas for flower beds en miniature. He finds them on pavements and less frequented roads. The results are picturesque and cute but more than that: eye-catching. Some might say: political. Subversive, even?
"Even if it lasts for only five minutes, that's okay"
It is all about public's reactions – millions of London's passerbys, potentially. They walk by the green installments every day. When it comes to make up sense of it, everyone is left to his own devices. "What really fascinates me about the project is to capture people's reactions and ask them what they saw. Some people think of a memorial, as when someone has died. Other think it's a strong environmental issue, and some even think it's terrible." There are even a few who think it's dangerous – though you can't stumble upon them really. But whatever people are thinking, it provokes reflecting.
This is about effect – to speak of a subversive act as done with guerilla gardening – might be a bit too much, though. Steve wants to brush the city up. Even if just for five minutes. Some passerbys take the flowers with them, some just walk over. Everyone is reacting in a different way, but most in positive ways, Steve says. In YouTube video "Holes of Happiness" many reactions were captured. In one scene, a bus driver can be seen who makes a halt to get one small patch decorated with flowers sitting on a pavement – only to bring it back once he recognizes the filming crew. Steve doesn't have a garden on its own, so he is in good company with many Londoners. Instead, he is making the city his garden and thinking small at the same time: "My garden is much smaller, but has a bigger impact."
"A garden is just part of your life"
Do we have to rethink urban life as we know it? Do we roam the streets too unwary? Whatever the reaction – "pothole gardening" triggers something in people. This is what matters. Vegetable patches, for instance, have conquered open space in many cities. Maybe now it is time for another green revolution from below, directly from the pavement. Sounds subversive, almost.
A book about pothole gardening will be published in september. For the time being, check out Steve's blog at thepotholegardener.com.
Sven Job